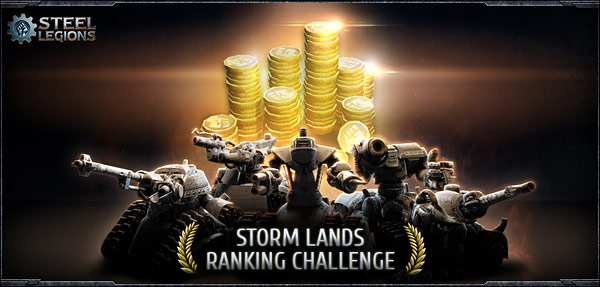 Commanders!
The next Stormlands Ranking Challenge is just around the corner.
Get ready for 1 hour of pure adrenaline on the Stormlands map!
The challenge starts
January 28, 8 PM UTC+1
,
and it will last
1 hour
only!
The challenge will take place ONLY be on the European server,
with a separate challenge for the American server to follow at a later date:
European server:

8 PM UTC+1 = 8 PM CET

(Amsterdam, Berlin, Rome)

= 2 PM EST

(New York)
Enjoy these benefits during the 1-hour challenge:


Stormlands XP Booster (

+100%

for all levels)

Stormlands Medals Booster (

+100%

for all levels)

HIGH REWARD LEVEL FOR ALL FACTIONS GUARANTEED!


When the challenge ends, the 7 leading players at that time are awarded
the following Gold Coins prizes:
3,000 Gold Coins
1,500 Gold Coins
1,000 Gold Coins
500 Gold Coins
300 Gold Coins
200 Gold Coins
150 Gold Coins